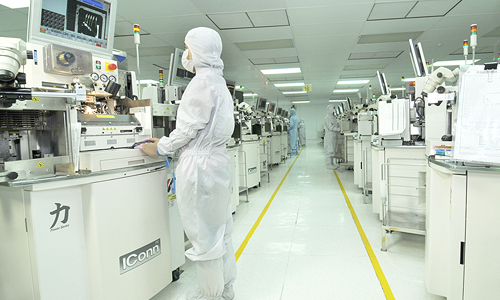 Unisem's factory in Batam Island, Indonesia, is a one stop shop facility, which provides Wafer Probe, Wafer Backgrinding, Assembly Packaging, Final Test, and Drop Shipment.
Unisem Batam assembles and tests leaded and array packages on a high volume basis in this 345,000 square feet facility. Located approximately 10 miles from Singapore, Batam is an island that benefits from free trade zone incentives provided by the Indonesian government.
Unisem Batam is certified with various Quality Management Systems and Environmental Management Systems such as IATF 16949:2016, ISO 9001:2015, ISO 14001:2015 and is a certified Sony Green Partner.
TEST
Unisem's assembly and test services facility in Batam includes 70,000-sq. ft. of dedicated floor space to test services and is operational 24 hours a day, 7 days a week. Current capabilities include Wafer Probing/Sorting, Final Testing and Tape & Reel.
Unisem provides solutions for our customers' test strategy enabling them to concentrate on their products rather than troubleshooting test hardware, software and other test issues. Our Test Engineering Support, Product Failure Analysis, and our Test Development Group are committed to providing test solutions beyond our customer's expectations.