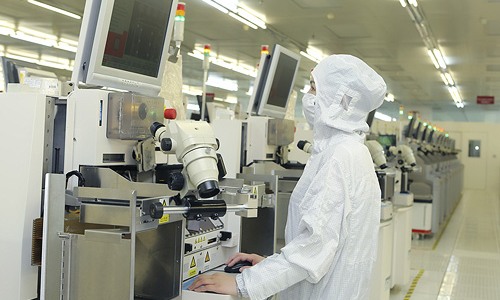 Unisem Chengdu Co., Ltd. ("Unisem Chengdu"), the Group's latest state-of-the-art Semiconductor Assembly and Test facility in Chengdu, China, began mass production in July of 2006 and has a current total production floorspace of 520,000 square feet. The adjacent Unisem property of 260,000 square feet has been earmarked for the Phase 3 expansion of the production facility in the near future.
Unisem Chengdu offers full turnkey semiconductor assembly and test services including wafer probe, wafer backgrinding, wafer bumping, assembly, test, and drop-shipping of finished goods to customers' designated locations. Unisem Chengdu provides assembly service for a wide range of advanced leadframe and substrate packages and the testing of analog, mixed signal and radio frequency devices.
Unisem Chengdu is certified with various Quality Management Systems and Environmental Management Systems such as IATF 16949:2016, ISO 9001:2015, ISO 14001:2015, ANSI/ESD S20.20-2014, Samsung ECO Partner,  OHSAS 18001:2007 and is a certified Sony Green Partner.
TEST
Unisem's state of the art assembly and test services facility in Chengdu, China currently includes 30,000-sq. ft. of dedicated floor space dedicated to test. Current capabilities include Wafer Probing/Sorting, Final Testing and Tape & Reel.
Unisem provides solutions for our customers' test strategy enabling them to concentrate on their products rather than troubleshooting test hardware, software and other test issues. Our Test Engineering Support, Product Failure Analysis, and our Test Development Group are committed to providing test solutions beyond our customer's expectations.